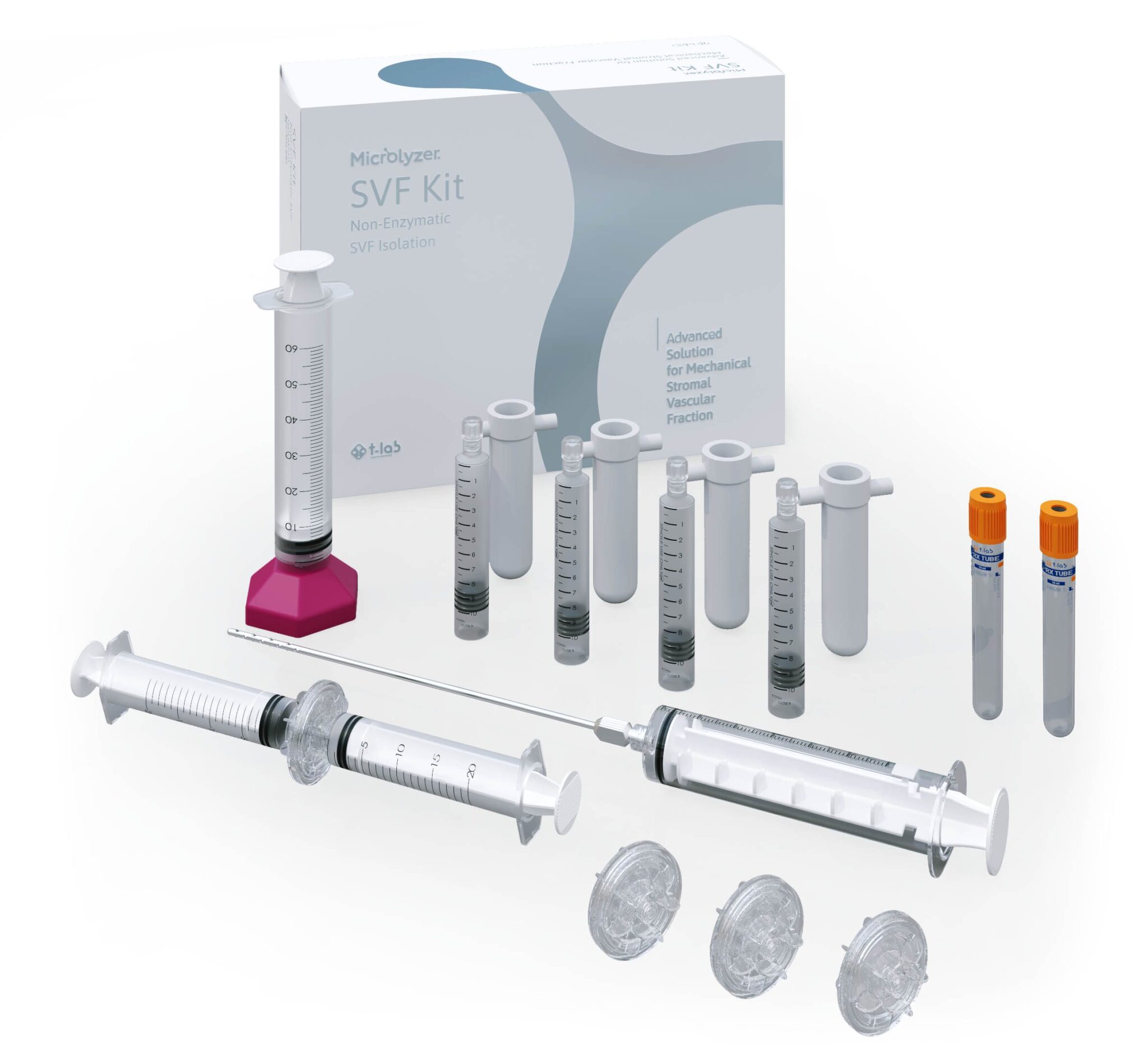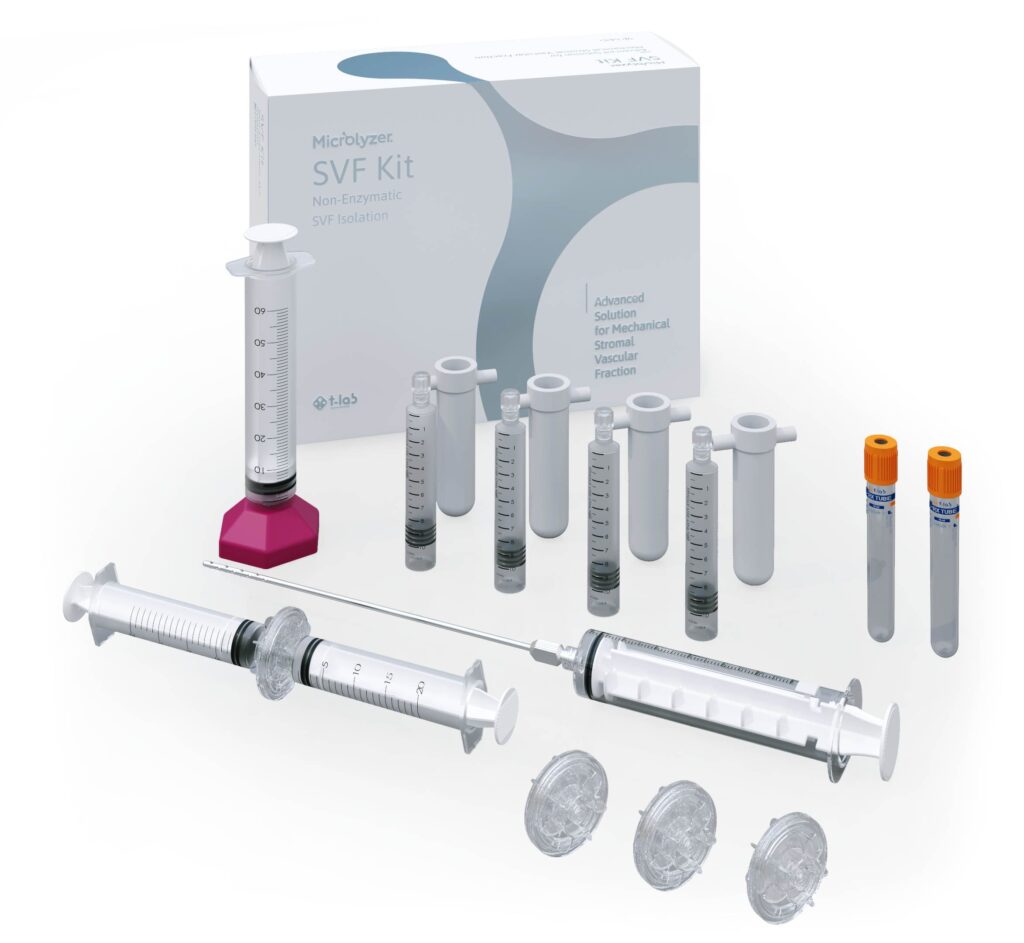 Not only Fat Grafting,
It is a real SVF isolation,
A real regenerative therapy
The Microlyzer SVF Kit offers you the perfect system for obtaining a high mesenchymal stem cell population without using enzymes. Moreover, it is much faster and cost effective than enzymatic systems. Discover regenerative treatments now with T-LAB.
Regenerative Effect
Real SVF isolation
Proven Protocol
High nucleated cell count
High stem cell rate
High viability
Safe
No enzyme risk
No regulation risk
All sterile components
Single use lipoaspiration cannula
Sterile Buckets
Safe injection with 41 Micron Filter
Fast and Cost Effective
No enzyme cost
No high investment cost
No additional component needed
Preparation in 40 minutes
Centrifuge only 2 times
Prof. Dr. Michele L. Zocchi
A long time has passed since I isolated the very first Adipose Derived SVF ever described in Medical Literature using a special manual centrifuge system I had developed and patented back in 1988.
Over the years I have developed, tested and mastered a wide range of techniques using different devices based both on enzymatic and mechanical approach. Easiness of use, speed, efficiency and cost have always been the most crucial aspects I consider when evaluating a new device for the isolation, preparation and concentration of SVF.
In my experience very few devices however can satisfy those very important criteria. One in particular, more than the others, is the Microlyzer, the features of which I have extensively outlined in a long Masterclass published in 2019 in the European Journal of Plastic Surgery (EJPS).
CELL ISOLATION, NOT FAT GRAFTING
The process of making injectable adipose tissue is not called Stem Cells. Our method however completely isolates SVF cells from the adipose tissue. While our final product is rich in highly viable nucleated cells, it completely excludes fibrotic tissue, fat cell and Triglyceride since additionally to the Microlyzer Blade filter the final product is also processed through a 41 Micron filter in order to offer you a pure and safe injection.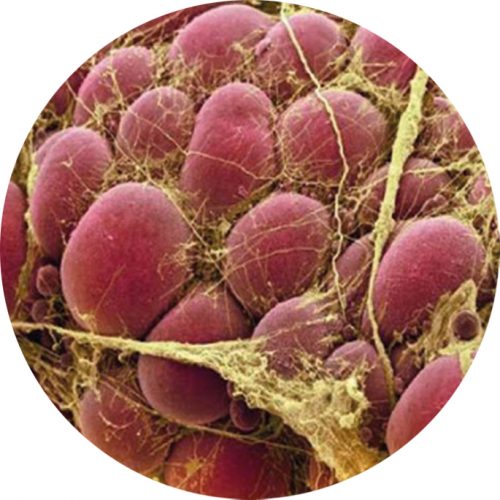 REGENERATIVE EFFECT, NOT ONLY MECHANICAL
Fat grafting is a key technique in soft tissue reconstruction, the effect it provides however are mainly mechanical, that is the crucial difference between Fat Grafting and SVF which is a high concentrate of Stem Cells. Stem cells that are separated from the adipose tissue and concentrated can multiply rapidly in the human body and differentiate into several lineages . It offers you a real regenerative treatment, unlike fat grafting.
COUNTABLE CELLS, NOT TISSUE
Micronized fat tissues also contain stem cells, this does not mean however that the SVF cells isolated within these tissues have been concentrated. After processing the adipose tissue through the Microlyzer, you will be able to see the SVF pellet with your own eyes on any microscope, even detect, count and easily measure the viability of nucleated / non-nucleated cells with a fluorescent microscope.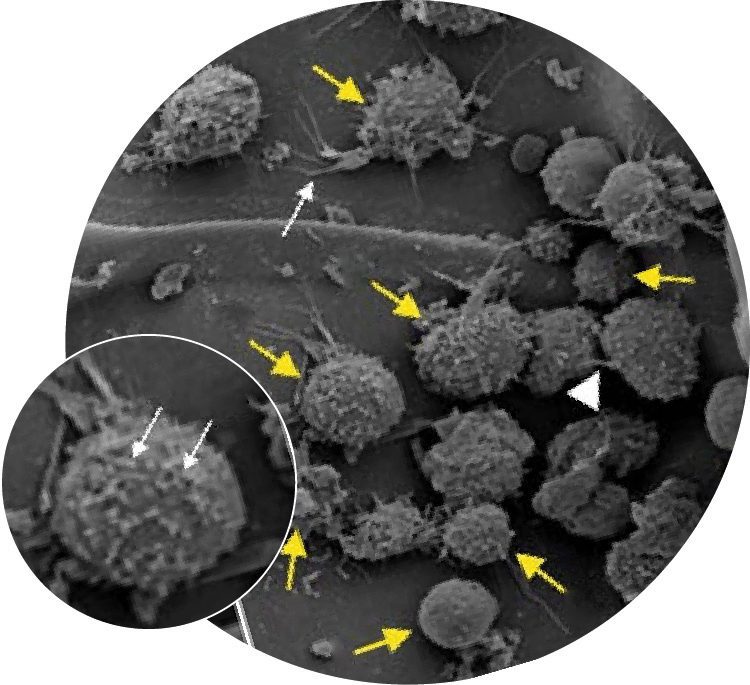 A COMPLETE KIT WITH 30 COMPONENTS,
EACH DESIGNED FOR YOU
Lipoaspiration made very easy and comfortable with our aspiration syringe with unique locking fins, Single Use Cannula, sterile centrifuge buckets and special decantation apparatus.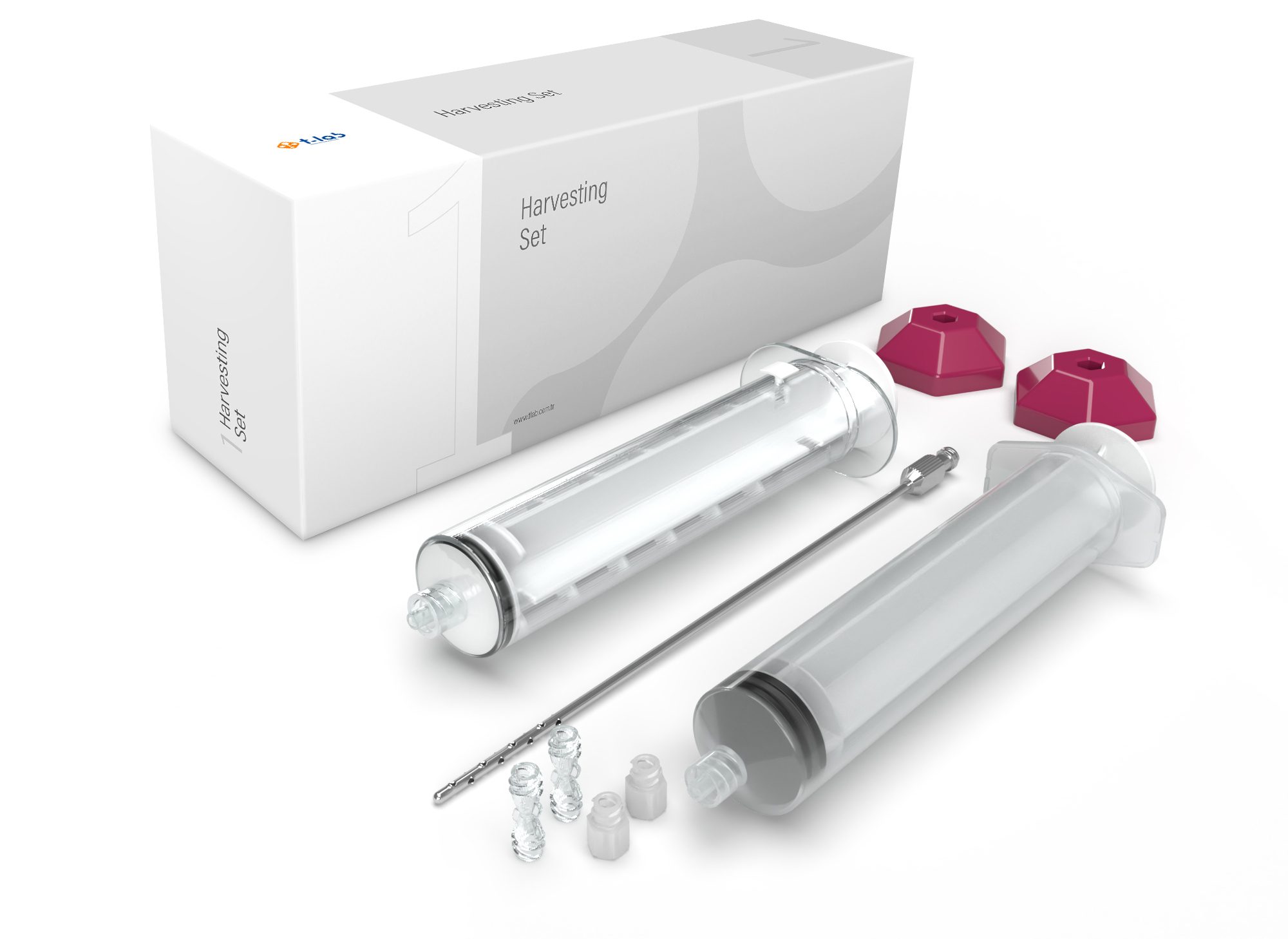 FAT PURIFICATION / CONDENSATION
Our 4 special 10cc syringes convert into tubes in two movements, after which they are ready for centrifugation.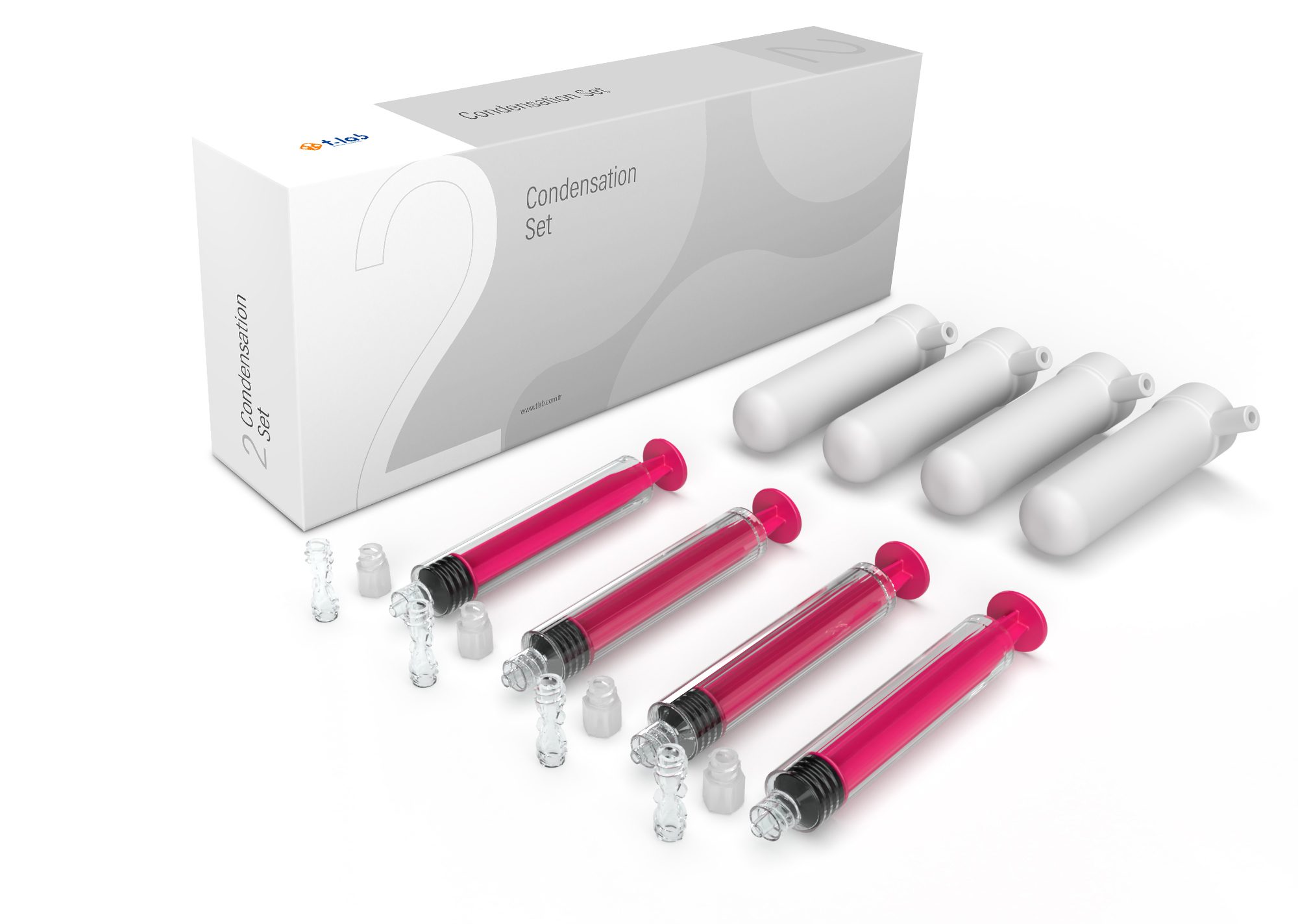 Thanks to the unique technological feature of the Microlyzer, which is far superior to mesh and plastic filters, the release of stromal cells is optimal.
The SVF layer is easily separated from the oil and collected using two 10ml special tubes and a long needle, What's more, with a 41micron cell filter, the passage of particles which are larger in size than cells is prevented.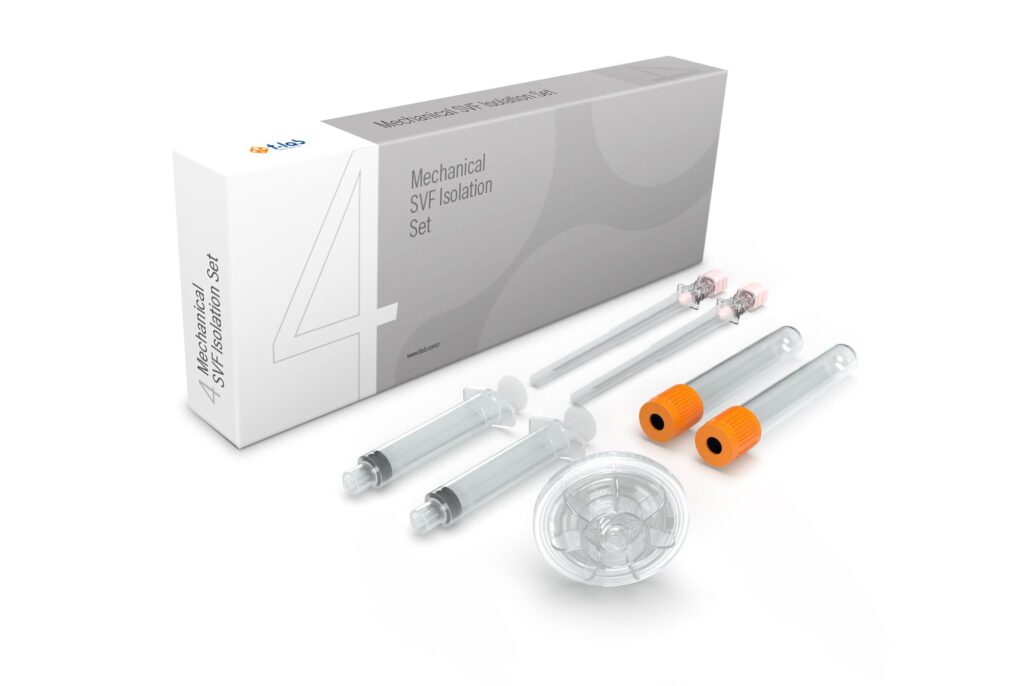 HIGH NUCLEATED CELL COUNT
HIGH MESENCHYMAL CELL RATIO
Microlyzer SVF gives you visible evidence
Counting and analysis results with fluorescent microscope immediately after SVF cell isolation

Isolated SVF cell (without culturing) Flow Cytometry data
CD34 (Stem cell marker) : %16,4
CD45 (Pan Leukocyte marker) : %0,0
CD73 (Endo_5_nucleotidase) : %85,3
CD90 (Thy-1) : %14,3
CD146 (MCAM) : %4,3
Viability ratio (7-AAD) : %99,9